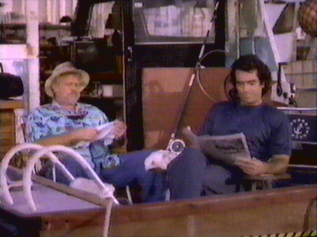 As most fans of Raven know, any material or publications on the series can be somewhat difficult to find. This page features articles written about Raven and its stars Jeffrey Meek and Lee Majors. If anyone out there has or obtains any periodicals on the series, please send an e-mail to ravenshrine@hotmail.com.
---
How A TV Hunk Gets His Kicks

Interview with Jeffrey Meek on his "new" CBS television series, Raven.
Source: Entertainment Weekly.
---
The Fall 1992 TV Preview: Saturday

The 1992 Fall Line-Up, with a brief synopsis, rating, and chances for survival in the ratings war. Source: Entertainment Weekly.
---
LIGHTS! CAMERA! MEEK!

Another interview with Jeffrey Meek which includes biographical information.
Source: People Magazine.
---
Streetcar Stops at South Coast Rep

Interesting review of the Tennessee Williams play, "A Streetcar Named Desire," in which Jeffrey Meek played Stanley Kowalski.
Source: Forty-Niner Online.
---
Celebration of the Lizard - Preview

Great review and praise of both the Summer 2000 Broadway-bound musical, "Celebration of the Lizard," and its star Jeffrey Meek.
Source: The Union-Tribune Publishing Company.
---
ON THE MOVE: GIVING GOOD WEIGHT

An excellent article and interview with the extremely creative and talented Raven co-star, TV veteran actor Lee Majors.
Source: People Magazine.
---
JEFFREY MEEK

Paul O'Mahony's exclusive interview with Jeffrey Meek of Raven, via telephone conversation, from Britain's No.1 martial arts magazine, Martial Arts Illustrated.
Source: Martial Arts Illustrated.
---
Actor seeks symbolism as 'Raven'

Jeffrey Meek's input into the mythologies and symbolic meanings revolving around the character, Jonathon Raven.
Source: The Associated Press.
---
Meek sheds no tears for 'Raven'

Raven's Jeffrey Meek reflects on the cancellation of the series and talks about moving on.
Source: Honolulu Star-Bulletin.
---
Meek makes it authentic

Jeffrey Meek discusses how and why he made a scene in Raven get re-shot, as well as what he expects his audience to get out of the series and the character Jonathon Raven.
Source: The Associated Press.
---
Ask Stacy Jenel Smith

A simple question and answer about Jeffrey Meek, star of Raven.
Source: The Houston Post.
---
Total TV Jeffrey Meek Quote

Meek comments on his competition with other martial arts TV stars.
Source: Total TV Magazine.
---
Meek, but Not Mild

Raven's star Jeffrey Meek mentions how his guest star villains feel when they come onto the set in this short article.
Source: TV Guide.
---
Any duplication of this material in any form is stricly prohibited.
Website design ©2001 Black Dragon Web Creations. All rights reserved.