Television
JEFFREY MEEK OF 'RAVEN'
HOW A TV HUNK GETS HIS KICKS
by Alan Carter
On last year's CBS late-night series The Exile, Jeffrey Meek played an international spy; this year, in the network's new action show Raven, he's Jonathon Raven, a Ninja and martial arts master who speaks seven languages. "You think CBS is trying to prepare me for something?" Meek wonders aloud, noting the extensive research and training he has undertaken for his roles. "Like at this point, maybe acting is only my cover. I could almost be a secret agent."
If Meek, 33, hasn't yet founded the Hollywood branch of the CIA, he may turn out to be CBS' best stealth weapon in the battle for Saturday viewers- especially women. In a successful four-episode run this summer, which earned Raven its 9 p.m. fall slot, the muscle-flexing adventure series surprisingly attracted more women than men. Discounting the current hunk value of grizzled co-star Lee Majors, one assumes it is the well-sculpted Meek who did the trick.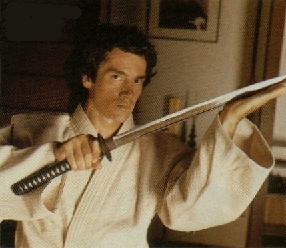 SWIFT SWORDSMAN: Meek strikes a training pose
But mention the words sex symbol and he might let loose with a mean karate chop. "I don't exactly think of myself that way," he protests. "The show is not just T&A. It is really a metaphor for the loss of innocence. It's complex. It's about the dark abyss of sin." Less metaphysically, it is also about a former assassin (Meek) who is searching for his kidnapped son.
To stay in shape for Raven's "spiritual, emotional, and physical enlightenment," Meek, who is single, follows a regimen of strict diet (with an occasional beer), meditation ("playing this potentially violent person has made me a lot calmer"), and one-on-one martial arts training (four to five hours a day, six days a week).
A Northern California native who once fronted his own band-and remains a "huge" Jim Morrison fan-Meek is thrilled to be moving to bigger and better things. He remembers shooting in Paris for the low-budget The Exile as high drudgery. "We were there for the worst winter in 30 years," he says. ''Napoleon had nothing on me. Everything froze. The toilets. Everything. I even had to buy a hot cappuccino (to melt the water) to use the head. When they said Raven was set in Hawaii I thought I had died and gone to heaven."
This article is courtesy of Entertainment Weekly. ©1992 Entertainment Weekly.
Website design ©2000 Black Dragon Web Creations. All rights reserved.