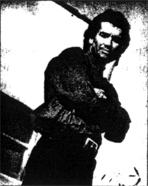 "They're so old and slow, I'd kick their ---. Carradine wouldn't even know how to spell kung fu when I got through with him. Norris wouldn't know what hit him."
- Jeffrey Meek
(above) of Raven, with tongue in cheek, on his competition in the sudden glut of martial arts TV shows (David Carradine's Kung Fu: The Legend Continues, Chuck Norris's upcoming Walker, Texas Ranger)
CONTRIBUTOR: Katrina Brown
---
This article is courtesy of Total TV Magazine. ©1993 Total TV Magazine.
Website design ©2001 Black Dragon Web Creations. All rights reserved.