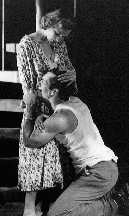 South Coast Repertory's Elizabeth Dennehy and Jeff Meek play Stella and Stanley Kowalski in Tennessee Williams' "A Streetcar Named Desire."
STREETCAR STOPS AT SOUTH COAST REP
by David Weiner, Forty-Niner Online
"A Streetcar Named Desire" is generally considered to be the paragon of achievement in the American theater. Tennessee Williams' hugely influential 1947 drama opened doors of emotional nakedness and sexual desperation that had rarely been acknowledged before on the stage.
In the symbolic personages of Stanley Kowalski and Blanche DuBois, Williams not only pitted an eroding Southern gentility against the coarseness of post-war working class America, he created two genuinely resonant archetypes of male and female vanity.
Assuming the burden of such weighty history, director Martin Benson and South Coast Repertory have staged a faithful, competent revival of "Streetcar" that is illuminated by a fiery, star-making performance from Kandis Chappell as Blanche.
"Streetcar" opens as Blanche arrives at her sister Stella's doorstep in New Orleans with a trunk bearing all her possessions. Blanche is a self-deluded Southern belle who is distraught over the loss of the family estate and cringing at her approaching middle age.
Meeting her brother-in-law Stanley does nothing to quiet her shaky nerves. Stanley Kowalski is a crude, loud and overbearing man of whom Blanche acidly observes, "Thousands of years have passed him right by." The rest of the play focuses on the escalating tension between these two opposites.
Marlon Brando established Stanley as the dominant force in the play with his mesmerizing performance in "Streetcar's" original Broadway run (opposite the late Jessica Tandy). But by emphasizing Blanche's insidious promiscuity over her fragile sanity, Chappell seizes command of nearly all the play's action. It's a bold strategy that serves the actress's naturally aggressive style, even if it does render Blanche's ultimate emotional disintegration less convi ncing.
Chappell, an SCR veteran, has been the subject of great critical praise of late. An article in a local newspaper called her "Hollywood's best-kept secret." If many in Hollywood make it down to Costa Mesa to catch her in "Streetcar," that is sure to change.
Overwhelmed by Chappell is the unfortunately named Jeff Meek. Although he occasionally lapses into Brando's nasal intonations, Meeks' Kowalski is mostly engaging and believable, although the actor - best known for his starring role in television's "The Raven" - may be too conventionally good-looking for the role.
As Mitch Mitchell, Stanley's poker buddy who makes an ill- fated attempt to court Blanche, Jimmie Ray Weeks contributes a solid performance in the play's major sup porting role. Weeks's schoolmarm reticence makes a perfect contrast to Meeks' robust physicality.
Other fine touches in the production are Michael Devine's set (recreating the muggy squalor of the Kowalski's small apartment) and Jane Reisman's wonderful lighting scheme, which casts a soft green pall over the stage that meticulously evokes images of Elia Kazan's famous 1951 film version of "Streetcar."
"A Streetcar Named Desire" performs Tuesday through Saturday at 8 p.m. and Sunday at 7:30 p.m., with Saturday and Sunday matinees at 2:30 p.m. The play closes October 9.
For ticket information, call (714) 957-4033.
This article is courtesy of Forty-Niner Online.
Website design ©2000 Black Dragon Web Creations. All rights reserved.