LIGHTS! CAMERA! MEEK!
Raven's Jeffrey Meek boldly does his own stunts and laundry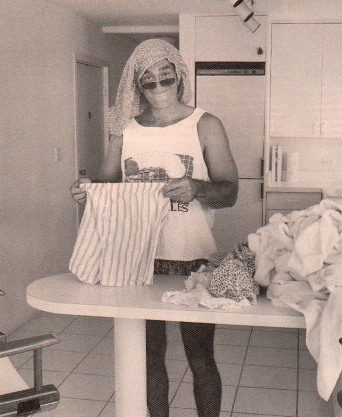 "I haven't really had the time to date over here," says Meek (housekeeping for one in his Honolulu flat).
---
"He has this special touch," says costar Lee Majors (on location with Meek). "He has a mystique."

"I'm a big fan of action films," says Meek (on Oahu's Waikiki Beach), "but not a big fan of acting in them."
THE MOSH MAN WHO WANTS TO DO MACBETH
If it were up to him, actor Jeffrey Meek would rather not be tangling with bad guys on balconies, dangling by his fingernails from crumbling cliffs or, as he recalls of one especially hairy moment from his CBS series, Raven, "having a large Samoan gentleman hold me by my ankles over the edge of a hotel roof."
No matter that some folks are in awe of the stunts he performs as Jonathan Raven, a former Special Forces assassin turned martial-arts do-gooder. When an extra gives the sinewy 6'2" actor the ultimate compliment--"you know you'd make the perfect James Bond"--Meek, 34, demurs. "not a chance, pal, "he says. I'm much more interested in Glengarry Glen Ross."
In fact, Meek was Broadway bound when he began his television acting career in 1984. His first move after graduating from the University of California at Irvine was to New York City, where he eventually took the part of Quinn McCleary on Search for Tomorrow just to pay the bills. "I thought I'd do a show that nobody would see, and I'd be able to do theater, " he says. " I ended up working on the soap 15 hours a day." By 1986 he had left to pursue other TV and movie roles. Two winters ago, Meek was shivering in Paris, where he was shooting The Exile, a CBS late-night espionage series, when the offer came to do Raven, which is shot on location in Hawaii. Of course he warmed to the idea.
For Raven's fight scenes, Meek was taught chops and kicks by martial-arts expert Billy Blanks. Another master--Lee Majors--plays Meek's grizzled sidekick. The one time Fall Guy and Six Million Dollar man expected Meek to wonder why he would settle for a character part. Simple, explained Majors, 53. "I've done everything you're doing. I just want to sit back and watch you work."
Meek's athletic prowess was evident back at Arlington high School in Riverside, California, where he played football, basketball, and baseball. The youngest of three children of James Meek, a now retired Air Force officer, and his wife, Elleen, a former junior high school teacher, Meek also starred in school plays. "The day I came to my first football practice, I was studying for a mime tournament and I showed up with whiteface on," he remembers. "When the coach saw my makeup, he made me do bear crawls all over the place."
These days Meek's extracurricular activity is slamdancing. A bachelor who lives in a two bedroom Studio City, CA home when not on location for the show, he goes to concerts by Pearl Jam, Nirvana and other touring groups with his buddies from the Raven crew. Banging heads in the mosh pit "is a good way to let off steam, " says Meek, who clearly has more exciting things on his mind than being a heroic hunk. "I'm going to see Skid Row tonight. I like those guys. They've got good energy."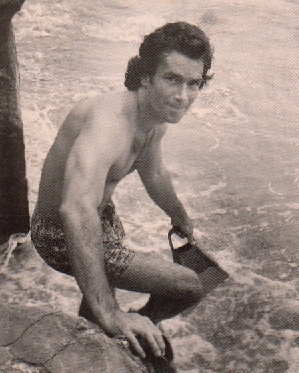 This article is courtesy of People Magazine. ©1993 People Magazine.
Website design ©2000 Black Dragon Web Creations. All rights reserved.